EBS Pipe Brand drinking and irrigation pipes are authorized to bear the International NSF Certificate Mark. NSF leads the development of the American National Standards for all materials and products that treat or come in contact with drinking water to help protect public health and the environment.

EBS, PREFERRED BRAND İN İNFRASTRUCTURE SOLUTİONS İN LİBYA


By the help of its approval from several government authorities in Libya, EBS brand pipes have become one of the most demanded infrastructure pipes in Libya. EBS distinguishes itself by not only producing high quality infrastructure pipes in the sector, but also providing supervisory and testing of pipes in Libya. With its contractor identity, EBS continues to make a difference in the sector.
ECETAS is using its own brand, EBS GRP Pipes, Corrugated PE Pipes, PE Pipes and MRP Pipes in its own infrastructre projects in Çınarcık, Antalya, İstanbul and Manisa construction sites.
GRP Pipe shipments are still continuing to Ukraine.
June 2008- First shipment to Spain has been completed.
Local authorities in Turkey prefer EBS Metal Reinforced Polyethylene Pipes for essential drainage and sewerage projects.
September 2009- First DN3000 PN 10 SN5000 GRP pipe has been produced.



HDPE Pipe shipments are still ongoing to Georgia.
Shipments to Bulgaria are still continuing.
GRP Pipe shipments for irrigation projects under the Great Man Made River Project is still ongoing for the local projects in Libya. Our GMMRA approved EBS Brand Name GRP Pipes are used in the infrastructure works in the Great Socialist People's Libyan Arab Jamahiriya.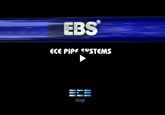 IS A BRAND NAME PERTAINING TO

MEMBER OF THE